There are many types of flooring you can use for your home or in commercial buildings like hotels. The type of flooring you choose will depend on personal preferences and taste as well as cost. Acid stained floors have become very popular due to its many advantages.
Acid Stain Floors: Advantages of Using in Home or Business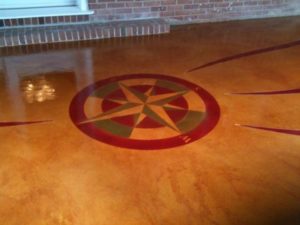 They are extremely durable
Acid stain floors last a very long time. They do not warp, rot, swell or get mold and mildew like wooden floors, and they also do not wear out. They are inflammable and resistant to ultraviolet light. This basically means no one can damage this type floor. The most exciting point of this floor is that you never have to replace or remove it and it hardly requires any refinishing.
They are cost effective and require low maintenance.
Acid stain flooring isn't as costly to install as alternatives, especially when you already have a concrete slab. To maintain stained concrete floors, you only need to sweep, vacuum or mop with a duster. Cleaning, re-polishing or buffing is done periodically depending on the amount of foot traffic. This is completed to maintain the initial appearance of the floor indefinitely.
They are decorative, elegant and beautiful.
This flooring has an elegance and beauty that surpasses all flooring types. Concrete has a high receptivity to acid stains and dyes, and also can produce almost exact replicas of the most expensive building materials on earth. For example, marble, granite, flagstone and many others. Its installation is also less labor intensive. An acid stain floor can bring out a unique style and texture to a home making it to stand out. Decorative floor coatings can be made to compliment or contrast with the room decor to bring out an aura of designer style.
Stained concrete is the best solution for many property owners in the construction of homes and commercial buildings.