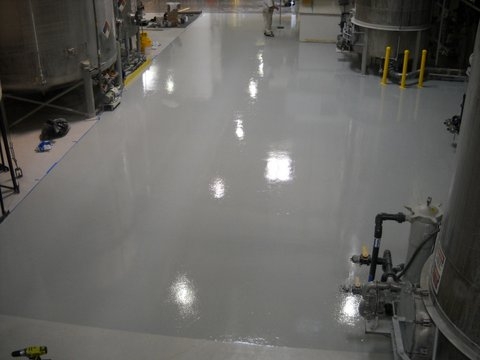 Commercial facilities require durable, specialized industrial epoxy floor systems, but not all can make use of the same type of system. This is because different industries have various requirements, especially those that involve hazardous materials. Smith & Company Painting has experience with installing resinous flooring in a wide variety of buildings and facilities.
Types of Resinous Epoxy Floor Solutions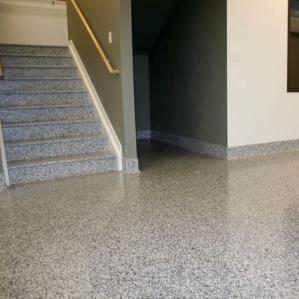 There are several different types of industrial epoxy floor solutions. Systems range from thin mil (thickness) systems ranging from below 10 to high build chemical resistant coatings to 60 mils or more and many in between depending on the use.. Epoxy flooring solutions can also be used on interior concrete blocks in industrial areas and on interior piping and tanks made from steel.
Water based epoxy can be installed on clean, dry surfaces and makes use of pro-industrial hi blend water-based catalyzed epoxy for its upper coats. It's primarily intended for flooring made from gypsum board, concrete blocks, interior concrete floors, steel, and galvanized steel.
100% solid epoxy is more limited in its use. It's often only available for interior concrete floors designed for heavy industrial vehicular traffic. Epoxy/urethane is also more limited and is mainly used on steel exteriors.
The best type depends on a number of factors depending on the specific use and budget. In addition to the type of material used in the flooring, it also depends on whether the area is indoors or outdoors and its use.
Industrial Epoxy Floor Solutions Portland Oregon
Smith & Company Flooring provides industrial epoxy floor solutions for McMinnville, Tigard, Beaverton and Oregon City.