These specialty resins and epoxies aren't the thin cement paints you find in most home improvement stores. We specialize in a variety of residential, commercial and industrial custom coatings. Our expert team applies specialty products like amine, amidoamine, polyamide, novolacs and polyaspartics. 
---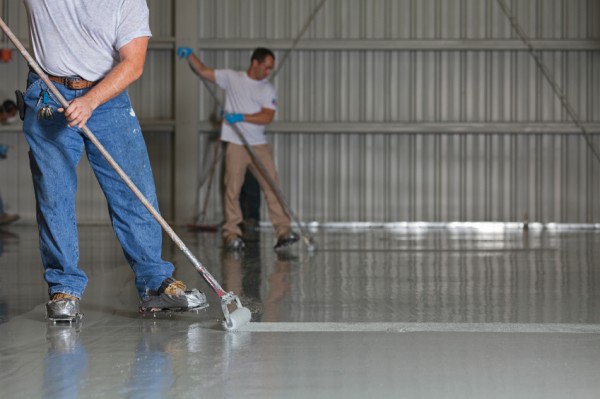 ---
Smith & Company Painting offers a number of different epoxy floor systems for commercial and residential buildings. These different floor coatings and coverings can be used for a variety of facilities, including those that see heavy traffic or need to meet specific USDA or FDA regulations. These epoxy flooring systems can also be decorative and look very attractive in a number of settings.
Different types of epoxy floor systems
There are different types of systems that can be used for flooring. Smith & Company Painting offers these four types of coatings:
Amine Epoxies. Amine epoxy floor systems are very hard and are resistant to chemical spills. They may be used in areas that will be exposed to corrosive elements. They are also water resistant. However, they do require recoating more often and dry slower than other epoxies.
Amidoamine Epoxies. These

epoxies

are created from the reaction of a polyamine and a fatty acid. They are fairly resistant to water and corrosive elements, but they are also quite tough and have a low viscosity. However, they are slow to cure and can only be used in certain temperatures.
Polyamide Epoxies. These epoxies can be used in many areas and for many purposes. They are very flexible and resilient, but they are fairly porous and may not be ideal for some temperatures.
Epoxy Phenolics/Novolacs. These coatings have a very high resistance to heat, chemicals, corrosion, and solvents, but they are fairly weak and may be damaged easily. They also take a good amount of time to cure.
Epoxy Floor Systems Portland – Salem Oregon
Smith and Company solutions include moisture vapor barriers and concrete repair. Our cove moldings are coated with decorative epoxy to create a waterproof, easy to maintain surface. We have numerous product choices available to meet every on budget, required durability and décor.
Our service area includes Portland, Salem, Beaverton, Lake Oswego, Hillsboro and Tualatin. Contact us today for a free estimate.