Why consider Smith & Company Flooring for Residential Floor Systems?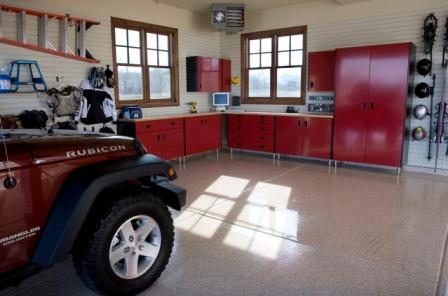 As a family-owned business serving the Portland to McMinnville, Oregon local areas for over 50 years, we offer an extensive portfolio along with current references from satisfied customers. Our long term relationships with our suppliers enable us to provide top quality products, application methods and customer service. Our custom floor coatings are ideal for both residential and commercial uses.
Our Best Garage Floor Coating Prices and Process
Numerous systems are available ranging in most cases from $3.00 – $7.00 per square foot. The majority of our flooring applications for residential or industrial projects are $4.50 – $5.00 per square foot.
The typical installation process involves the following:
Grind off old coatings, paints or grease stains

Fix all the cracks and damaged areas

Apply a thick primer coat of 100% solids high performance industrial epoxy

Broadcast decorative color chips into the coating while the first coat is wet.

Allow chips to dry into epoxies overnight and

Return the next day to scrape off any excess.
The final step is adding two (2) high build top coats of polyaspartic coating. This final application is super durable with tremendous clarity allowing for the decorative chips to show through like a granite floor.
Depending on the floor size, the average size home's parking stalls take 2 days to complete and allow for 3 days for use. Plan 2 weeks in advance for scheduling the best garage floor coating in Portland.
More than the Best Garage Floor Paint & Coatings. We also offer custom concrete coatings, interior and exterior painting. 
We provide painting and industrial coatings for homes and businesses throughout the Portland metro  and on to McMinnville, Oregon and surrounding areas. We are a family owned business, having served customers in Oregon for over 50 years. We apply the best garage floor paint, coatings & epoxies throughout the state.

Specialized Coating Services – Tips For Hiring Contractors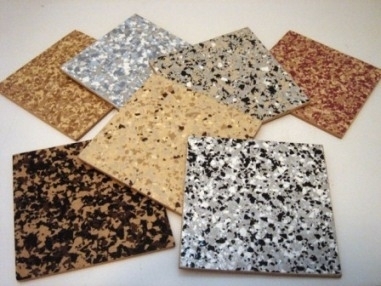 Our employees are trained professionals. Each employee undergoes a criminal and drug background check and all are legal.
License – Be sure to check for active licensing that they are current and violation free.
Insurance – Check to make sure that the contractors you are considering have proper workers compensation insurance based on classification code. Be sure that your contractor has the proper insurance coverage or you can be held liable. Accidents, though rare, can happen.
Bid Sheet – Be sure to get an accurate bid sheet when soliciting proposals including surface preparation and the exact product used. Low pricing is typically a result of using inferior products and reduced labor.
References – Get references from recent customers. Beware of references without dates
Our Services
We provide complete concrete restoration along with the best garage epoxy coatings including crack repair and fixing damaged areas. Then we grind each surface with our state of the art dustless system to remove bond breakers and remove highs spots creating the ultimate surface for our industrial strength decorative coatings. Floors are beautiful, easy to clean and last for years. Hot tire and chemical resistant.
We also provide residential, commercial and industrial painting and specialty coatings. Call us for your flooring needs in the Portland Oregon Area.