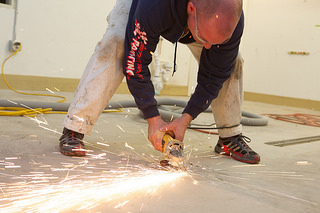 In many different industrial and commercial buildings, flooring is very important. Many facilities, especially those used for manufacturing, place a great amount of stress on their concrete flooring. This causes the surfaces to crack and slowly wear down. Even the most durable of floors will, in fact, eventually deteriorate due to heavy loads, heavy traffic, and the vibrations caused by machinery.
Smith and Company Flooring offers repair services to ensure the best surface restoration to near perfect condition. We will grind, repair, and resurface the entire flooring area so that it is safe, solid, and level. Our professionals have years of restoration experience and will have the entire process completed as quickly as possible so that business disruption is kept to a minimum.
Why Repairing Surface Crevices Is Important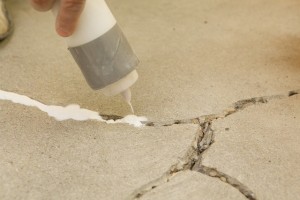 Some business owners overlook a few small cracks  or other surface issues believing these small blemishes aren't worth repairing. However, it's important to deal with any damage as soon as possible. Small cracks can grow quickly, and moisture can easily collect within them. This leads to mold growth and can further damage the flooring. Cracks can also lead to uneven flooring. Employees or visitors could trip and fall, plus machinery such as forklifts could be jostled when driving over these cracks. Unlevel surfaces can also affect the manufacturing of certain items or cause machinery to become slightly unsteady, resulting in the creation of defective materials. These cracks and expansion joints are more than just unattractive; they are also a major safety concern.
Don't wait to have your cracked floors repaired. We'll handle this safety concern for you before it becomes a major hazard.
Concrete Garage Floor Repair – Local Areas and Places We Serve
Smith and Company, based in McMinnville, provides residential, commercial and industrial concrete garage floor repair, polishing, decorative overlays and metallic epoxy floors in Portland Oregon and surrounding local towns.