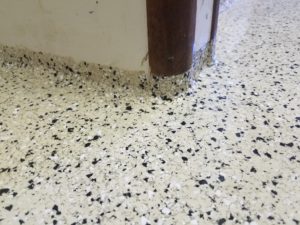 When it comes to your garage you want to make every installation last as long as possible. Whether you are talking garage door or garage floor, you don't want to be spending money every few years on new installations.
One of the best choices that you can make is to install epoxy garage floor coatings. Epoxy floors are some of the toughest in the market. Once you have one installed, you can be sure that it will last for many years to come.
Epoxy garage floor coatings also have the ability to transform your garage flooring from dull concrete to a finish that brightens the space up with color and style.
You may be wondering why you want a better looking garage. For one, the garage is not just a space where people park their cars any more. With real estate becoming more and more expensive, more property owners are using their garages as a multi-functional room.
Many homeowners have transformed their garages into home offices. If you choose to go this way, you will definitely need to brighten it up first and one way to do this is with garage epoxy floors.
The other great thing about having your garage floor coated in epoxies is the fact that it is a hardy and durable floor. You know how sometimes a wrench drops and the flooring cracks from the impact? With epoxy floor coatings, you don't have to worry because it is a highly durable floor finish. It doesn't chip, corrode or abrade.
It is also perfect to cover up minor flaws in the floor such as small cracks. In fact, it prevents small fissures from turning into bigger cracks. You will also be happy to know that having an epoxy floor in your garage means that there is less dust.
As you can see, there is no reason why you should spend money on alternative garage flooring options when epoxy garage floor coatings have so much more to offer. As for cost, these floors are affordable, and since they last a long time, they are worth every penny.