Many industrial facilities require acid resistant floor coatings for their operations. Depending on the specific industry and application requirement, building owners and property managers usually select specialized epoxy resins formulated to stand up to chemicals and acids used within the company's operations.
Acid resistant resin floors offer acid corrosion resistance for a variety of industrial needs including chemical processing plants, storage areas and laboratories along with food and beverage processing facilities to name a few.
Regulatory Requirements for Concrete Floors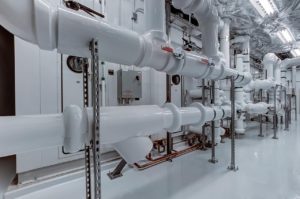 Bare concrete flooring is quite porous in nature. Regulatory agencies do not approve the use of untreated concrete floors within industrial facilities where dangerous acids are present. Instead, they mandate floor coverings that are impervious to acid and chemical spills. Additionally, many facilities must also utilize secondary containment coatings in order to keep toxic chemical from leeching into absorbent concrete slabs and eventually into the environment.
In fact, depending on the location and industry, fines can be significant thus making acid-resistant flooring a must sooner rather than later.
Further, protective floor coatings offer an additional incentive to facility managers – worker protection. Safety is of utmost concern as it keeps workers healthy and injury-free while also keeping production operations running smoothly. USDA approved floor coatings are a must for many industries, and providing eco-friendly and slip & chemical resistant coatings will protect employees too.
Best Places for Acid Resistant Coatings?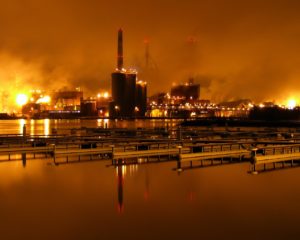 Facility managers typically hire epoxy contractors for poured resin floors in places where there is high potential for chemical spills. Acid-resistant resin flooring is often installed in:
• Tank Rooms
• Pulp and Paper Mills
• Chemical Processing Facilities
• Pharmaceutical Laboratories
• Chemical Storage Plants
• Utility Stations
• Battery Charging Structures
• Mining Operations
• Food and Beverage Operations
• Any Industrial Facilities where chemicals are used or stored
Flooring Structure Protection
To replace concrete floors would disrupt operations at a pretty high cost. Epoxy floor coatings offer an affordable solution to protect bare concrete in areas where acids or alkalis are highly concentrated. Professionally-installed resin flooring with the right mix of acid resistance protects the structural investment and ultimately saves money on future repair and damage expenses.
Best Type of Acid Resistant Resin Floors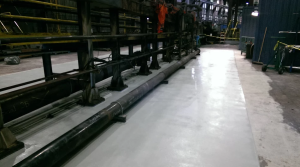 Because each facility differs in it needs, it is important to obtain expert assistance in selecting the right coating. Our flooring experts will assist you in choosing the right protective floor resin for your entire operation.
We offer heavy duty epoxy coatings to suit a variety of functions including:
• Long term exposure to highly concentrated pH substances such as sulphuric acid.
• Waterproof and secondary coatings that supply containment & acid resistance for floor and tank coating.
• Urethanes for protecting processing facility floors that must hold up to daily hot pressure washes
Novolac Epoxy Resins: Most Effective for Acid, Chemical & Heat Protection
Resin and coating manufacturers engineer Novolac Epoxy Resin to be the most effective coating for protection from acid, harsh chemicals and heat.
This resistance profile is particularly important for businesses with hazardous waste, acid and chemicals. The EPA created minimum standards that require spill protection for 72 hours. Due to their high density cross linking, Novalac epoxy resins provide an ideal coating that withstands harsh acids and chemicals. Additionally, Novalac epoxy will provide protection to meet governmental guidelines in the event of a spill.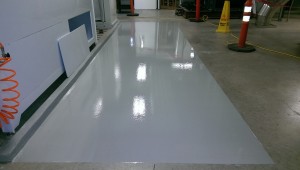 Novalac systems also add vital protective features to expansion joints and cracks. Natural movement of concrete slabs impacts cracks and joints, and thus requires an appropriate system to protect from acids and chemicals. As the slabs move, the filler must have enough flexibility to adjust with movements in the cement while simultaneously providing appropriate protection.
100% solids epoxy fillers are available to fill cracks and expansion joints with necessary flexibility and protection from acids and chemicals.
Our team will help you find the right chemical and acid resistant coating systems for your industrial or institutional facility.
Contact us today to learn more about industrial floor and other epoxy floor coatings.