In commercial settings, it is common to think of the flooring material we use as something that does not make that much of a difference. The decision often comes down to what is easiest and what is cheapest. That approach may work some of the time, but it often can create a myriad of problems along the way. It is better to think about the type of flooring you want to use in order to find the best product that is both affordable and easy to use, plus one that looks good, provides a variety of safety features, and is something that is flexible enough to work in just about any commercial setting. When a business takes this approach, they would be wise to consider if a concrete floor is the best solution.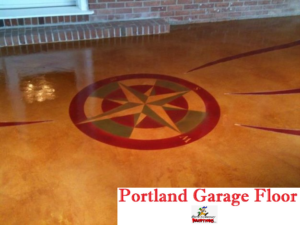 Concrete floors used to be reserved for storage areas and industrial settings, where the flooring material did not make that much of a difference. Leaving rough concrete could work in a few settings and many people now assume that is what they will get when they turn to concrete flooring. A little investigation into the product will soon let them know that concrete flooring is no longer a product with only a few applications. It can actually be used in place of other types of flooring such as tiles, wood, and carpeting. Because of its durability and low cost of installation, it may be the perfect flooring choice for many different businesses.
Start with Polished Concrete Floors
While most people may think of concrete as a rough surface that while strong, is not very appealing to walk on, polished concrete is actually a much different product. The polished concrete has a much smoother finish and is actually something that is enjoyable to walk and work on.
Concrete polishing is a process that slowly grinds away at the rough surface of the concrete. By using progressively finer grinding pads, the final result is a floor that is as smooth as any tile that is laid on the floor. The polishing can cover any blemishes in the concrete, and produces a product that is visually appealing to all that see it.
Polished concrete floors offer many advantages that not everyone is aware of. The different products that are used can create a high quality product.
Grinding and sealing – The process of grinding the concrete and sealing the concrete helps to protect it. Concrete is a porous substance, but when a sealant has been applied, that problem is resolved. The grinding can also be combined with other materials to correct any cracks or problems within the concrete.
Moisture Mitigation – Moisture is one of the concerns that people have with concrete. They are familiar with the feeling of wet concrete floors and walls, but they may not realize that the product can be treated in such a way that moisture is not able to get into the floor.
Self-leveling – In a large commercial setting, it is very possible that the concrete floor is not completely level. It can have hills and valleys, but if a layer of self-leveling concrete is added, this problem will go away and the result is a finished product that is level.
All of these things can be accomplished during the concrete polishing process.
Turn to Decorative Concrete
The biggest problem that is brought up about polished concrete floor is the fact that they are made out of concrete. To most, concrete is a gray, bland material that does not add any beauty to the location where it is used. Most people try to find ways to cover up concrete because of its appearance. That is not a good reason to discount the use of concrete flooring. There are plenty of decorative concrete flooring options that can be found.
Concrete Overlays – This is a great way to cover a floor that has been damaged or discolored over time. Concrete overlays are a product that is put over the top of an existing concrete floor. An overlay is the perfect way to cover up any imperfections in the concrete. Overlays are not only able to cover up the damage, but they can improve the look. Overlays can come in a variety of different colors that completely change the way the concrete flooring looks. It is also possible to create patterns in the concrete with overlays.
Concrete Coloring – If the color of concrete is the reason a business does not want to look at this type of flooring material, it may be because they do not realize the possibilities that come with coloring concrete. There are two ways that color can be added to concrete. The first method is known as a non-reactive stain. With this process, the stain is applied to the concrete and bonds to the concrete in a mechanical way. It sticks to the concrete by going into the pores and surface of the concrete. This type of stain is available in a wide range of colors, but may not last as long as a business wants. The second method is a reactive process. When this type of stain is applied, it uses a chemical reaction to bond it to the concrete. That allows this to become more permanent and less prone to damage over time. The range of colors for this process is limited.
While being able to create a different color for the concrete is a great way to improve its appearance, it is not the only part of decorative concrete flooring to consider. It is actually possible to create a variety of patterns in the concrete. The patters can create a look of a wood floor, tiles, and stones or just about anything else. With the right combination of colors and materials, it is possible to replicate a wide variety of other flooring materials in the concrete. The result is a high quality, durable, and great looking floor for a fraction of the cost.
Maintenance of Polished Concrete
Concrete floors are very durable and can last a long time while maintaining their appearance. Like any other type of flooring, the better the concrete flooring is maintained, the longer it will last, and the better it will look.
Maintenance starts by sealing the Concrete Polishing. Concrete sealers are applied directly to the flooring when all other work is finished. Some of the products that are used include concrete densifiers, waterproofers, stain guards, waxes, and sealers. A professional can help a business determine what they will need to protect their flooring.
The maintenance of the polished concrete floor requires some specific equipment. Buffers and different materials need to be applied on a regular basis to make sure the floor is always protected. The frequency of reapplying the waxes and sealers will depend on how the floor is being used, how much traffic the floor receives, and the environment that the floor is in. It is difficult to determine exactly how often basic maintenance should be performed. It could be a weekly basis or it could be something that has to be done every few years. It also depends on the quality of the materials that are used to protect the concrete flooring. The better they are, the less maintenance will be required. Just like the polishing process, buffing the concrete floor requires using progressively finer grits of grinding pads until the finish that is desired is reached.
Where Can Polished Concrete Floors Be Used
The more a person learns about polished concrete flooring, the more appealing it will become. That may lead people to wonder where the best applications for the concrete floors may be. The answer is simple. Concrete floors can be used anywhere a business needs a floor. From industrial settings, to office buildings, to creating a floor that is almost like artwork, concrete flooring has a place. It is a type of flooring that can not only be less expensive to install, but it can be less expensive to maintain.
Polished concrete flooring can be a material that fits all of the needs of a business. It is a flooring product that is easy to install, has the ability to be aesthetically pleasing, and can fit the budget most businesses have for flooring.
The key to getting a Concrete Polishing that will work for a business is to turn to a professional that has the experience, equipment, and knowledge of how the product works. They need to be able to handle the different sized projects that come with commercial settings, and they need to be able to create a finished product that everyone is happy with.