Concrete flooring offers many diverse benefits to people who own residential and commercial properties. If you own any type of property, you may be able to get a lot out of investing in concrete flooring for it. Concrete floors are strong and tough. They can tolerate significant amounts of pressure. They're low-maintenance. They're Eco-friendly. They can even stay in fantastic condition for quite a long time. If you're looking for flooring option that can stand the test of time, concrete may be the perfect material for your needs.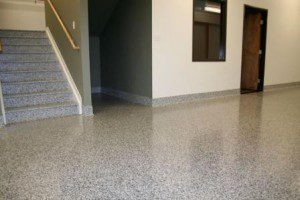 People who want attractive, strong and dependable flooring can turn to our full-service company with confidence. That's because we specialize in stained concrete, polished concrete, and epoxy coatings. If you want an epoxy or concrete floor that can help your business or residence lives up to its highest potential, we can accommodate you 100 percent. Our team members have significant knowledge regarding a vast range of pertinent flooring topics. They know everything there is to know about epoxy floors, stained concrete, concrete pours, stamped concrete and beyond. If you have any questions or concerns about your flooring needs, we can address them all for you.
Stained concrete can make floors look a lot more interesting and appealing. If you want your floors to make heads turn, you can count on our team of flooring specialists to help you. We can assist you with acid stains, concrete stains and more. Our decorative concrete savvy is unrivaled.
Polished concrete is yet another major area of expertise we offer. If you want professional assistance from specialists who can aid you with all of your concrete polishing requirements, we're your people. Our staff members know the ins and outs of matte finishes, concrete sealers, and glossy finishes. We work with many different types of clients, too. If you need polished concrete for any type of industrial setting, we can give you exactly what you want.
Epoxy coatings are also a large part of our business. If you want to delve into the world of moisture mitigation, our metallic epoxy coatings can go a long way for you. These coatings are suitable for many different applications. People often spot epoxy floors in basements, in retail facilities, in dining establishments, and in offices. They're frequently seen on garage floors as well. If you want to protect your residential garage floor from significant amounts of wear and tear, an epoxy coating may just be the optimal solution for you.
It's hard to dispute the many joys of epoxy floor coatings. These coatings establish surfaces that are simple to maintain and clean. If you don't want to have to worry about complex cleaning requirements, epoxy floor coating may be able to give you peace of mind. It's not hard at all to do away with debris, dust, grime and dirt accumulation on floors that have an epoxy coating. People who live in households with young children often benefit greatly from the introduction of this kind of floor coating. That's because this coating makes it simple and hassle-free to take care of beverage and food stains. If you have a young child who has a habit of spilling his orange juice everywhere he goes, epoxy floor coating may just be a lifesaver for you.
People who want world-class concrete flooring assistance can lean on our trusted company any day of the week. Call our established concrete flooring firm as soon as possible to learn more about what we can do for you and for your home or commercial property. We can help you get on the path to beautiful, convenient and low-maintenance flooring today.