If you own or manage a restaurant, cafeteria, bakery or food processing business in Oregon, you need to watch this video.
Portable soda blasting is an amazing way to clean your commercial kitchen. Get rid of grease, food, oils, butter that gets everywhere over time.
Soda blasting can be used for a deep clean of your walls and floors too.
Epoxy Flooring for Commercial Kitchens
We specialize in commercial painting and epoxy coatings in the food and beverage industry. The best floor system is an epoxy system that will withstand the heat from ovens and cold from refrigeration. Plus it will withstand the extreme heat and pressure from hot water cleaning.
If you're just getting ready to design and build a new commercial kitchen, consider installing our cove base system around all perimeter walls. We can apply epoxy right up to the top edge of cove molding. This creates flooring that is totally seamless. This avoids any chance of water, grease or bacteria to build up where walls meet floors.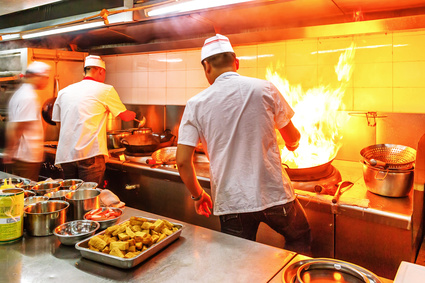 Local Areas We Serve in Portland Oregon
Portland, Beaverton, Lake Oswego, Marylhurst, Gladstone, Tualatin, Clackamas, West Linn
97201 97202 97204 97205 97206 97207 97208 97209 97210 97211 97212 97213
97214 97215 97218 97219 97221 97222 97223 97225 97227 97228 97232 97238
97239 97240 97242 97251 97253 97254 97255 97256 97258 97259 97268 97269
97271 97272 97280 97281 97282 97283 97286 97290 97291 97292 97293 97294
97296 97298 97299