Smith & Company Flooring are your trusted professionals if you want to add an industrial epoxy floor coating to an existing concrete floor. Epoxy coatings are a great way to protect your flooring from moisture damage, wear, and tear. Plus, they can be customized to match any style.

Smith and Company have installed industrial epoxy floor coatings for car dealerships, manufacturing plants, and many other businesses in the Portland Metro Area. Coated concrete is easy to clean, prevents the spread of bacteria, and can hold up to the daily wear and tear of a commercial business. Below is a list of the coatings that are available:
Broadcast systems
This coating provides a decorative look that is perfect for light and medium duty floors. The result is a finished product that is durable, non-slip and offers a design that is visually appealing.
Novolac Systems
This system provides a chemical-resistant flooring product. It provides a mid to high range of chemically-resistant flooring that is able to withstand both acids and some solvents that are chlorine based.
This process is designed for an industrial setting that has moderate traffic and is prone to chemical spills. The flooring will mask imperfections and spills that can occur in an industrial setting to keep the floor looking fresh.
Thin Mil Coatings
This concrete coating creates a floor that offers superior performance and is available in a variety of colors. The flooring increases light reflectivity and also can reduce the need for maintenance due to it being less porous than other concrete finishes.
ESD Coatings
Electrostatic dissipative (ESD) systems are designed for applications where static control is required. The system will not lose its ability to function as other similar products do over time as has the ability to last in any environment. Available in an assortment of colors that have not been previously available, this system can be designed to fit the needs of any building.
Epoxy/Urethane Mortars
Epoxy mortars are the perfect way to patch, repair and resurface many different flooring materials such as metal, wood, or concrete flooring. The result is a floor that is strong and resistant to more damage. Urethane mortars offer great protection against wear as well as the damaging effects of heat.
Concrete polishing is a cost-effective way to create a great looking floor that is also very durable. The system includes a densifier, waterproofer and a conditioner that create a finished product, perfect for many different applications.
Decorative Concrete
The decorative flooring systems can turn a concrete floor into something that looks like any other type of flooring material. Color, texture and design can be easily added into the concrete flooring system. The use of a concrete sealer, river rock binder, and metallic powder can create a product that not only looks great but will also last a long time.
Paint chip systems
The paint chip system is an industrial epoxy floor coating option that puts paint chips into a concrete flooring to create a unique and special look. The paint chips can be in a random pattern or they can fully cover the concrete flooring. A top coat seals the paint chips to the floor to create a durable product.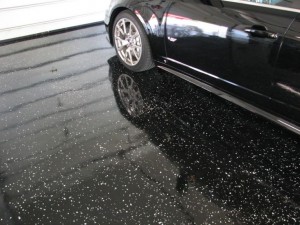 There is no project too big or small for Smith & Company Flooring. If you want to get an industrial epoxy coating installed at your business, be sure to contact the trusted professionals at Smith & Company Flooring for an estimate.