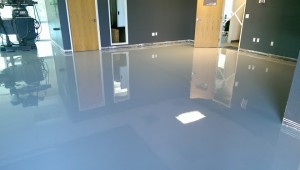 Here at Smith and Company, the epoxy coating process on floors is a specialty of ours. While there are some differences in the process depending on the floor and the use it undergoes, for the most part it's the same process and we want to share it with you.
Our team starts off by masking off and protecting any surrounding surfaces that do not get coating. Next, we will grind out and fill the cracks and joints with a polyurea filler. Once the filler dries, we grind the floor and the cracks with our large concrete floor grinder to ensure that the floor is properly roughed up, cleaned, and that the pores of the concrete are open for maximum adhesion.
We then vacuum the floor thoroughly to make sure that it is clean, then apply the primer or base coat of material. If we're installing a decorative flake floor coating, we would at this time broadcast the flakes into the base coat. Once the coating is dry, we clean up  any excess flakes followed by two coats of clear polyaspartic.
With any coating job, the prepping the epoxy coating process is the most important part. It makes all the difference in a coating that stays adhered to the floor versus one that peels up.
Here at Smith and Company, our customer's satisfaction is our number one priority. If you have any question about the process of epoxy coating or about your next paint job, don't hesitate to give us a call.