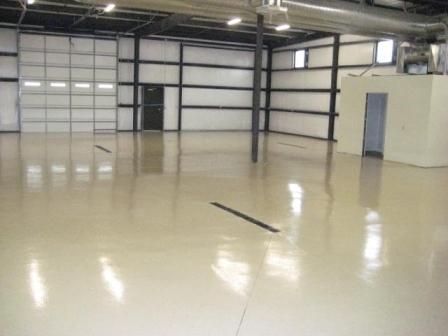 Industrial Epoxy Floor Coatings by Smith and Company
We have completed many projects from Salem to Portland Oregon using industrial epoxy floor coatings for a variety of specialized uses.
You may be interested to know that epoxies are not a one size fits all product. They are chemically engineered with different grades and systems depending on the use. There are thin systems that are cost effective for light use that can be under 10 mils thick using a primer and top coat sealer.

Other ultra durable systems for high traffic areas can be 60 mils thick with primer, base coat with sand mixed in plus a top coat of urethane providing seamless, low maintenance industrial epoxy floor coatings that will last for years.
We can provide each client no matter how small or large with numerous options for price and specific use.
We also provide non slip systems for areas that are hazardous when wet.
Industrial Epoxy Floor Coatings – Local Areas and Places We Serve
Smith and Company is based in McMinnville Oregon a short distance to Salem and Portland Oregon. We provide industrial epoxy floor coatings for commercial and residential clients. We also have a full service painting division for residential and commercial properties. Contact us and we will provide you with cost estimates with a choice of options.
[wpseo_map width="650″ height="300″ zoom="-1″ map_style="roadmap" show_route="0″ show_state="0″]
[wpseo_address show_state="1″ show_country="1″ show_phone="1″ show_fax="1″ show_email="1″ show_url="1″ show_opening_hours="1″]