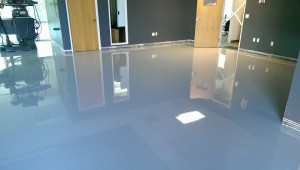 By opting for a concrete floor coating for your garage, business or home, you are choosing a floor that is more than what meets the eye. While the appearance of the floor is a great reason to get a concrete floor coating, you may want to consider some of the other benefits this floor has to offer.
Durable – sealed concrete floors are resistant to wear and tear and are expected to last around a hundred years.
Spill proof – unsealed concrete is porous and allows for stains, however, a sealed floor is easy to clean up and makes for easy maintenance.
Chemical-resistant – coated floors are also resistant to continued exposure to chemicals as they are remarkably strong and don't allow for chemical breakdown.
Safety – coatings prevent slippage and are resistant to temperature changes, extreme impact and fire.
Brightness – concrete floor coatings create a shiny or reflective surface that brightens the room and enhances the lighting in it.
Versatile – coated concrete floors can be installed for indoor settings as well as garages. They can be a great transition in a hallway or room that leads outdoors.
Attractive – coatings can come in a variety of colors and textures. They can be manipulated to look like limestone, marble, granite or even wood. Varied application techniques can add value and create a floor unique to your home or business.
Saves you time and money – sealed floor coatings take less time than other floors to install. Since they have a low maintenance requirement, their lifetime cost for upkeep is quite low.
Interested in having a concrete floor coating that is not only attractive but functional as well? Contact Smith & Company Flooring for information on the type of floor that will best fit your needs.