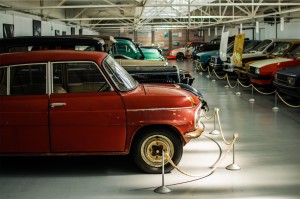 One of the primary reasons for getting an epoxy garage floor coating is to ease the amount of maintenance it requires to keep it looking clean. Learning how to clean an epoxy garage floor isn't hard. We have some basic cleaning tips that will give you a nice clean surface for years to come.
While garage floor coatings are designed to fight against dirt and stains, they still do require some regular maintenance to keep their shine over the years. Some cleaners will leave a film on the coating while others may cause the shine to de-gloss or fade. It's important to understand which cleaners to use and which ones not to use, as well as some recommended cleaning methods.
The first step in the epoxy floor cleaning and maintenance strategy is to get yourself a 24″ to 36″ dust mop. Since dust and dirt don't stick to the garage floor coating, simply use the dust mop once a week to keep your floor looking clean and shiny. This low-maintenance process will leave your epoxy coating floors looking up to par and prevent buildup from forming.
If your garage floor is starting to be exposed to spills and fluid leaks, don't fret. All that's required for this spot cleaning is a soft cloth and some Windex that will easily wipe up the mess.
If your garage floor has a lot of traffic and dirt, aside from the weekly maintenance, it's a good idea to give your floor a deep cleaning once every 3 to 4 months. The best cleaning tool for this deep cleaning process is a quality hard foam mop with a cleaning solution. However, don't use a string mop because they don't clean as well and tend to leave streak marks.
An effective cleaning solution is to mix a cleaning product with hot water and scrub the garage floor with the solution. Rinse down the floor after scrubbing and you're done. We recommend that you don't use citrus cleaners or vinegar because they contain acids that can slowly degloss the finish of your epoxy floor over time. In addition, cleaners with soap in them can leave streak marks and a hazy film on the surface that reduces the shine from the finish.
Learning how to maintain your epoxy garage floor coating is easy. Just use the cleaning tips we provided and your garage floor will be shining for the years to come!