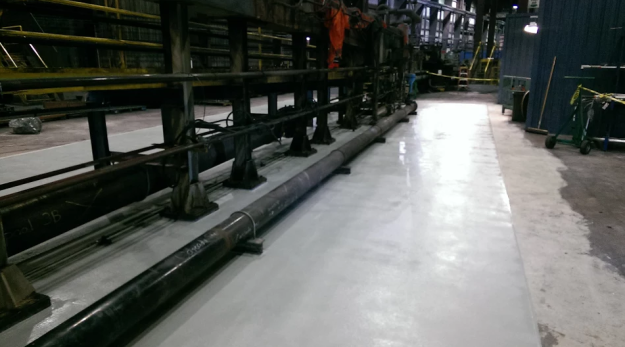 The industrial epoxy concrete floor project featured here was applied at an industrial steel mill located in McMinnville Oregon.
This project, like many, had challenges we needed to over come. We had a short time frame to work with. Plus we had fluctuating temperatures with cold at night and warm during the day.
The main problem to solve was water splashes from the second floor dripping through cracks down to the first floor.
No problem. We solve concrete floor problems.
Commercial Epoxy Flooring Project Summary
Property Type – Steel Mill
Location– McMinnville Oregon
Project Size – 1,300 Square Feet
Goal – Waterproof and Fix Concrete Floor with Non-Slip Surface
Problems –  Floor was in rough shape with extensive cracks. When water splashed onto the surface water dripped through to first floor. Metal dust was on floor from pipes needing extensive cleaning. The project needed to be completed in 4 days.
Solution –  Metal dust was cleaned from the concrete floor, equipment and pipes. The next step was fixing the cracks. Using a grinder with a crack chasing blade to grind open the cracks. Then an epoxy was mixed with sand and filled the depth and length of each crack.
The final process was the application of a high performance, quick curing polyaspartic coating. The first coat was applied followed by broadcasting sand to the wet surface. Once cured a final coat was applied.
This solved the water issue with a nonskid, easy to maintain surface and done within the 4 days provided to complete the project.
About Smith And Company Flooring
Smith & Company Flooring specializes in commercial and residential painting, epoxy flooring and specialty coatings for concrete and metal surfaces from Salem to Portland Oregon