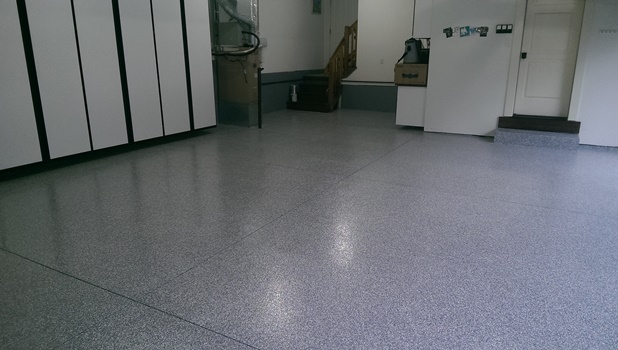 Here is another Smith and Company Garage floor coatings project. This one is in SW Portland.
Though it looks like garage floor paint, in fact, the system we used here is a high-performance coating.
Garage Flooring System Explained
1. Location – SW Portland, Oregon 97221
2. Property Type – Residential home
3. Project Size – Home is 5,240 sq. ft. and the 4 car garage is 1,115 sq. ft.
4. Project – The scope of work was to grind the concrete and apply our polyaspartic garage floor coating system.
5. Problems – The biggest problems were extensive stains with random cracks through the garage floor.
6. Solution – The floor was in good condition overall. There were normal cracks which we repaired with a  chasing blade to clean them out and filled with the epoxy filler. Then we ground the entire floor with our grinder to clean the floor and remove any traces of dirt and stains as well as to grind the epoxy filler flush so that when the job is done you will never know that there were ever cracks in the floor. The color used in this project is called "Smoke".
7. Time to Complete – Project was completed in 1 day with our fast track polyaspartic system.
8. Products – We used a 2 component fast cure epoxy to fill the cracks with an ultra-fast cure polyaspartic for the coating. This unique coating withstands hot tires, chemical and fluid spills. It's easy to maintain and last for years.
Smith and Company Concrete Flooring Installer Services in Oregon
We are based in McMinnville Oregon. We provide garage floor painting and installation of high-performance decorative epoxy and polyaspartic systems from Salem to Portland.
Additionally, we install specialty industrial kitchen flooring for restaurants, schools and universities. Chemical resistant systems including Novalac epoxies, anti-microbial and ESD coatings.
Bacteria Killing Paints 
Sherwin-Williams recently introduced Paint Shield. This is a revolutionary paint that kills Bacteria.
If you need a complete solution including special floor coatings and commercial painting services, please contact us to discuss your options.