Smith & Company Painting is your trusted source for epoxy floor coatings in McMinnville Oregon and Yamhill County. We also provide residential epoxy floor coating solutions.
Each type of epoxy floor coating comes in a variety of types that are versatile and customizable for each industry. One of the best reasons to use epoxy coatings is that they protect your floor from damage so that your floor will last for many years. Take a look below at a sampling of completed projects by our skilled contractors and artisans.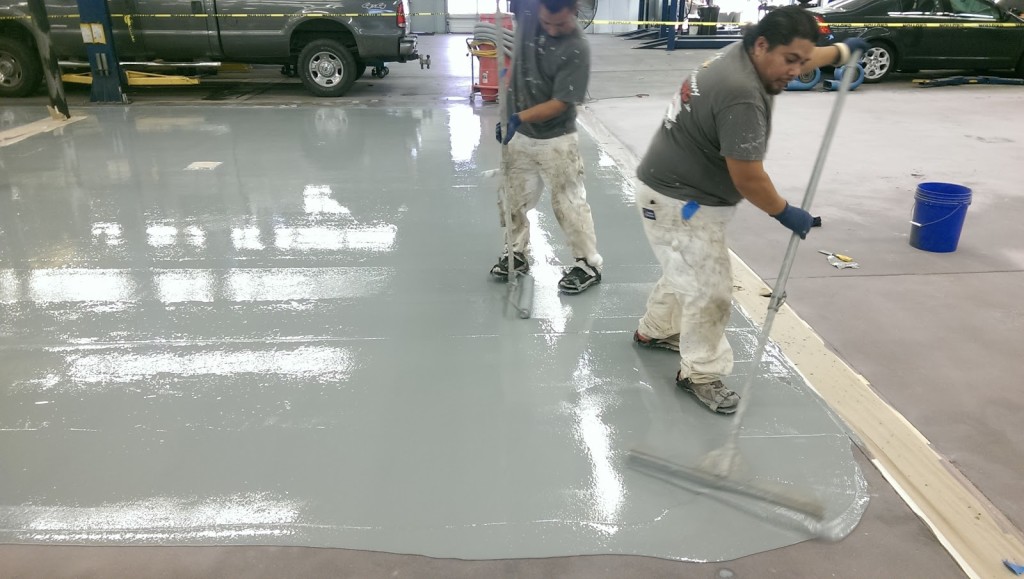 Let's look at the other benefits of applying a commercial epoxy floor coating:
Looks Great
Concrete coatings are a great way to add your personal style to a building. Epoxy coatings can be made to look like almost any other type of flooring, but last much longer. If you want your customers to say "wow" when they enter your business, a custom floor coating is the way to go.
Easy To Clean
Concrete floors with an epoxy coating are water and dust-resistant which make them incredibly easy to clean and maintain. Most coatings are also antibacterial which makes them a great choice for businesses that see a lot of young kids
Improved Safety
If your business currently has a concrete floor that is not coating, there are probably bumps or lips where the concrete has settled more than in other places. The concrete may also have cracks or erosion that can result in surfaces that are hazardous to walk on. Epoxy coatings remedy this situation by providing an even walking surface and can even have a non-slip surface applied to the top for added safety.
Environmentally Friendly
Since epoxy floor coatings help concrete floors last for many years, they need to be replaced much less frequently than other flooring options. This is good for the environment and for your business since you won't need to put your business on hold while the flooring gets replaced.
Commercial Epoxy Floor Coating in McMinnville Oregon
If you are interested in finding the perfect commercial epoxy floor coating for your business (or home), call the trusted professionals at Smith & Company Painting. They will evaluate your business and find the perfect solutions for you.
[wpseo_address oneline="1″ show_state="1″ show_country="1″ show_phone="1″ show_phone_2="0″ show_fax="1″ show_email="1″]