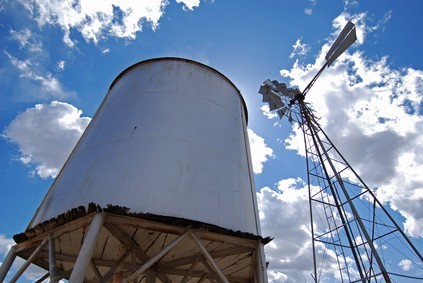 Painting metal fuel and water tanks like the one featured here in the Polk and Yamhill Counties require a 5 step process. This project was completed over 2 weekends.
Metal Fuel Tank Painting Process
1. Degreaser – Structure required degreasing to remove dirt and grime from truck and tractor exhausts.
2. Rust Removal – metal and steel fuel and water tanks are susceptible to corrosion. Grinding and spot hand sanding removed rust and flaking.
3. Power Washing – Power washing from top to bottom of 35 foot tall fuel tank. Access was via hydraulic lifts. This critical step removes degreaser, rust and dust.
4. Primer – Sherwin Williams Kem Kronik Metal Primer was used as the first coat. This is a rust preventing alkyd resin coating. It produces a high build film which can be coated with epoxy and urethane finish coatings. It is frequently used on iron and steel fuel and water tanks, machinery, marine vessels, hand rails, structural steel. It dries to approximately 3 mil thickness depending on application process..
5. Finish Coat – We applied 2 coats Sherwin Williams Pro Industrial Urethane Alkyd Enamel as final protective paint. This is a high solids paint with glossy finish.
For information about products click the links below.
Smith and Company Flooring Of McMinnville Oregon
We have been providing commercial and residential paint, epoxy and specialty coating services to clients throughout Oregon for over 50 years.
Typical applications include wood painting and staining, concrete floor coatings, decorative floor polishing and steel, iron and metal painting.