You've just moved into a new place with a basement that has a concrete floor. You're thinking to yourself, "What am I supposed to do with this room?" Well, a concrete floor provides a versatile surface to create a bonus room that fits your lifestyle. If it's not already polished, contact a professional concrete floor specialist to install an epoxy coating or other finish to match the style you're wanting.
An Over-21 Room
Treat yourself and your friends to a room for just adults. Polish your interior concrete floor with a darker brown or marbled grey color. Install a bar and stock it with your favorite drinks. Bring in an area rug that matches your style and enjoy the atmosphere of a bar in your own home. In case you have a friends who gets a little clumsy after a few drinks, you've got the perfect floor to wipe up the mess.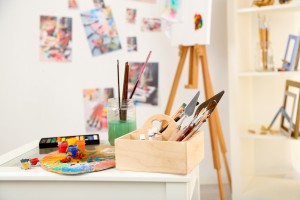 Craft Room
Are you or your kids artistic and in need of a place to let your creative juices flow? A polished concrete floor provides a wonderful surface to get messy. Whether you love painting, scrapbooking, or glitter projects, your floor can handle it. It proves to be an easy-to-clean surface that can be enjoyed by all.
Man Cave
A basement with a concrete floor is a great space to utilize for a man cave. Let's be honest, a man cave isn't a place where you want to be clean and tidy and the furniture you like often leaves scuffs on the floor. You don't want to stress ruining the flooring but you know that spills and scuffs are inevitable. So solve your messy man cave problem with a polished concrete floor. Many types of epoxy coatings won't scuff and they all can handle the spills you and your buddies are bound to bring about.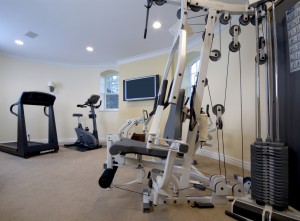 Home Gym
Create a mini gym with the space that your concrete floor provides. Because concrete stays cool, it's the perfect surface for a workout room. Plus, a decorative chip broadcast floor doesn't scuff, so don't worry about marking your floor with rubber weights or equipment. Polish your floor with a color or design that is lively and energetic. Bring in whatever equipment you enjoy using and add some mirrors on the  walls. This will create an atmosphere where you'll look forward to your exercise time and get the most out of your workout.
Game Room
A room designated specifically for games and a lot of activity, whether it's for you or your kids, is a great idea. This provides a space where you have the freedom to have fun without worrying about making a mess. You don't have to worry about the mess when food (and spills) join your game time. If your family loves basketball or racket sports, paint a mini court to play on your concrete floor.
There's no need to worry about your concrete basement anymore. There are many options to utilize this unique space according to your needs. Be creative and have fun with the flexibility that a polished concrete floor can provide. If you're looking for a professional to finish your floor, contact Smith and Company for an estimate.