Choosing to apply an epoxy garage floor coating is almost always a wise investment. Epoxy floor coatings protect your garage and provide many benefits that increase the value of your home. In this blog, we are going to look at five benefits applying a garage floor coating has.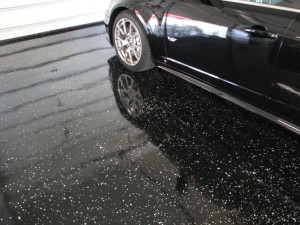 Benefits of Having a Garage Floor Coating
1. Looks Great
Garages are in the middle of a transitional period where they are being used less for housing cars and more as a gathering place to watch sports and hang out. One of the key features of a garage coating is that it can be customized to match any style you wish.
2. Durable
Whether you use your garage floor for parking cars or hanging out with friends, you'll want the floor to be able to stand up to the daily wear and tear. Epoxy coatings protect the concrete by being a resilient barrier.
3. Covers Imperfections
If your garage floor is on the older side, it may be showing signs of its age through cracks and pits. Epoxy coatings are able to even out your floor and give you a level floor to walk on.
4. Anti-Dusting
Dust in your garage is partially comprised of concrete that is pulverized when your car's tires or other materials come in contact with the floor. With a garage floor coating, contact with the floor is protected so dust cannot be created.
5. Moisture Resistant
One of the key factors leading to cracking and damage of concrete is from moisture seeping into and eroding the floor. Epoxy coatings prevent this by creating a moisture resistant barrier that prevents water from coming in contact with the concrete.
Protect your garage floor with an epoxy floor coating so you can enjoy your garage for years to come. You can start by calling us, the professionals at Smith & Company Flooring. We'll find the garage floor coating that is perfect for you.