Epoxy garage floors are quickly becoming a favorite for many homeowners and with good reason – they come with unbeatable benefits. In case you haven't heard of it, epoxy is a resin that is poured onto an existing floor such as concrete. When it sets it makes for a great floor. If you are shopping for a new garage floor you should consider an epoxy one because you will enjoy the following benefits.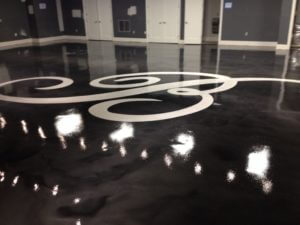 The most important benefit of garage epoxy floors is how durable they are. Your garage floor takes a lot of beating – you park your car in there, there are tools that drop on it from time to time as well as other forms of wear and tear. An epoxy floor will take all this quite well – it will be many years before you need to install new garage flooring.
Epoxy is resistant to most harmful things. It is resistant to fire, harsh chemicals and many other things that would destroy other kinds of floors. If you install epoxy on your garage floor you will have an easy time when it comes to maintenance – all that it needs is a mop and some water – one wipe is enough to get it clean. There is a wide variety of epoxy flooring to choose from. You can have your epoxy floor in different designs and colors as well as finishes.
Installing epoxy is easy; in fact, if you are a handy person you can do it yourself in a few hours. If you are not into DIY you can call in a contractor – they won't charge you very much because it is a simple job. Compared to other kinds of floors epoxy is less expensive; you will pay less than you would if you installed wood or marble instead.
Epoxy flooring is not just for your garage. Since it comes in many designs and colors you can install it in your house too. Just to be safe make sure that you buy the non-slip additive – it will stop your family from nasty slips and falls. If you are looking for additional leaving space in your home such as an extra bedroom or office space a garage epoxy floor is the way to go – it will help transform it into a beautiful room. You cannot go wrong if you choose Portland Garage Floor. Many homeowners have installed it and are very happy with it. You should join their numbers by shopping for one today!