Antimicrobial Floor Coatings
M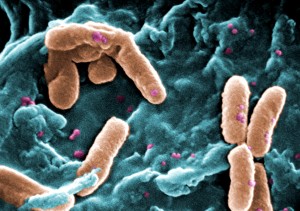 any industries are required by the USDA to have antimicrobial floor coatings in order to prevent the spread of fungi, mold, and bacteria. Antimicrobial coatings achieve this by creating a non-porous surface which prevents contaminants from absorbing into the flooring. They also have a slow release agent that kills fungi, mildew, mold, algae, yeast, and many other bacteria. This feature makes them an excellent choice for food processing plants, restaurants, school cafeterias, pharmaceutical labs, hospitals, or anywhere cleanliness is top priority.
What Industry is Your Business?
If your business involves the handling or processing of raw meat, the USDA requires the flooring be moisture sealed and it must be able to be easily cleaned using a dust free cleaning method. Having an antimicrobial floor coating aids in this as they are moisture sealed so they can handle the wear of being cleaned frequently with water and chemicals. Antimicrobial coatings are also useful in industries where customers, clients, and visitors have direct contact with the floors and where floor sanitation is necessary, such as in healthcare and childcare.
Different Types of Coatings
Antimicrobial Floor Coatings are available in urethane-based and epoxy-based. Urethane-based coatings are more flexible meaning they are more resistant to impacts. They are also UV Stable, meaning they won't turn yellow due to long exposure to sunlight. Epoxy-based coatings are more firm and are typically used as a base to cover existing concrete flooring. Then a layer of urethane-based coating is applied to the top. This method is used because urethane-based coatings do not bond well to existing concrete so the epoxy is used as a type of primer. Both types of flooring are available in a wide range of colors, so they can be made to match any interior design.
If you are interested in learning more about Antimicrobial Flooring, please contact Smith and Company.
To learn more about USDA Guidelines, please visit http://www.fsis.usda.gov/OPPDE/rdad/FRPubs/San_Guide.pdf