Our team here at Smith and Company was called out to Broadway St. in Portland, Oregon to do some work at an empty commercial kitchen space. We were requested to clean, grind and fill any existing cracks. We then tackled the task of coating a commercial kitchen floor with a suitable floor coating material.
The state of the concrete before we arrived was in extremely bad condition. It was an old slab that had very soft concrete with many pits, holes and was covered in a thick layer of grease. One area of about 3-feet long was a trough that had worn into the floor from something dripping on it for years and was about 3-inches deep. We were given one week to tackle this project.
We started out by heavily grinding the surface of the floor to remove the grease and get down to some fresh concrete. We then went around and patched the rough areas using a 2-component epoxy filler. Once that was down we applied a 2-primer material combination of General Polymers GP5531 and GP5304.
These materials together work exceptionally well to coat over oily surfaces. We broadcasted sand into the GP3504 and then top coated the sand with a 20mill thick coat of GP4090 which is a polyurethane slurry. This was to help combat any residual grease that may have been in the concrete.
The project of coating a commercial kitchen floor was quite the challenge, but in the end, the customer and our team were very satisfied with the way it turned out. Check out some before and after photos below!
Before: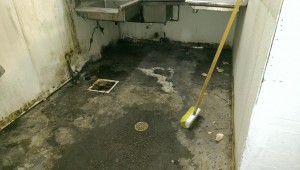 After: