Whether you're planning to build a vivarium or you're looking to learn more about epoxy flooring, we'd like to help! A vivarium is an enclosed space that is usually used for raising animals or plants in a controlled environment. Sometimes these areas are designated to create a mini ecosystem or environment that differs from the natural environment in that area. It's important to install a durable floor in this space, which is why we recommend building your vivarium with an epoxy floor.
Because a vivarium needs to meet specific requirements to create the proper environment, it demands specialized construction methods; this includes the flooring. A proper floor for a space like this must be able to contain the environment while avoiding the introduction of external elements. It must also have a high level of resistance, be durable and easily cleanable. An epoxy floor is a great solution for these requirements.
We understand that depending on the animals you're keeping, flooring needs will differ. While some animals may need flooring with texture, others may need an especially durable surface. Canines, hooved animals, rodents, non-human primates, and aquatic animals will require different flooring specifics. But all will need to be easily cleaned. Most of our decorative quartz, decorative flake and solid colored surfaces will satisfy the differing needs of any of these animals.
In addition to the space for the animals, many other areas in a vivarium facility can benefit from an epoxy floor as well. Having durable and easy to clean surfaces for hallways, cage washing areas, showers and locker rooms, surgical suites, warehouses (especially those with chemicals) and mechanical equipment rooms is a smart decision. Check out the chart below to see the specific types of epoxy floors that will work best in these varying areas.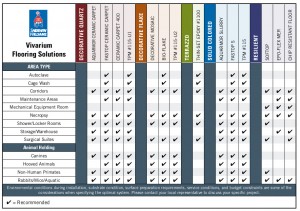 Epoxy floors are a great surface for a variety of uses. A vivarium is just one of them. For more information, contact Smith & Company or visit our website.